I read your book non-stop! Ed J. 
I have read your book 2x now. COMPLIMENTS. I want to order another copy to give away. Annemieke W
The book reads as a thriller and/or detective and is very accessible. Compliments for your choice of words, sometimes dangerously to the point, possibly debatable, a bit naughty and insinuating. Your frequent referrals to your sources make a strong case. Theo M. 
A dear friend of mine gave me your book. It is fantastic, THANK YOU!!! You have done me a great favor as pieces of the puzzle are falling into place. The invisible enemy has been given a clear face. That in itself gives peace of mind even though that may sound weird, considering the scope of the dangers. I feel I can now arm myself. Diny
I Just read your book, what an eye-opener! How can it be that many single events seem meaningless, but once you connect the dots they lead to a fascinating different insights! I am in search of the real truth, thanks for that. Greetings Jeroen. 
Great to read. All the information is clear easy to read. I already knew a lot, but in your book you bring it all together. Nothing happens by chance. Jacky
This book should be spread door to door! Compulsory reading from secondary schools.  Mieke J
Reading your book gave me confirmation of what I have been preaching for years and what I warn everyone for. After all, I was stupid enough to play whistle-blower at some point. Naive as I was, I thought that only one person was rotten… It turned out to be the whole top.
A few months ago I attended one of your lectures about your book ' About Power and Invisible bankers '. You suggested that people should not belief you but should do their own research. I would like to tell you that there is another book, written by a US investigative journalist in the field of finance and politics, which confirms your views to a large extent without conspiracy theories. It's called ' Technocracy Rising ' by Patrick C. Wood. About the New world order. Maybe you are strengthened by this. Kind regards.
I notice that your book touched me. I had to stop at some point because the emotions got too much. When I read about the Khazarians, I was shaken. There is SO MUCH recognition in me. I NEED TO meditate on the question, WHY… But the answer is already clear. Thank you B. Izar for this book. Warm greetings.
I Have read "About Power and the Invisible Bankers" with great interest. The book makes it clear that whistleblowers against this terrible system should look out for their health! I hope these creeps leave you alone. Sincerely
You tell an amazing story in a light footed way. Very informative and also partly speculative, but that is unavoidable. I would have liked more information about the Balfour agreement 1916 where the British, in a letter to Rothschild, announces support for the foundation of the Zionist State in Palestine. I would also like to read about the deception of the Scofield Bible, in which this Zionism is supported. Could you please include these subjects in your next book?  
What an amazing book! B. Izar brings a number of very socially important but heavily underexposed cases to the attention. He also does this with a pleasant indignation. His clear and direct writing style give heavily shocking matter an airy and sometimes humorous view, which makes it accessible and appealing. It is an exciting and current book, with relevant, interesting, spectacular and urgent information. It raises the question about what can be done in a worst case scenario.

' The Achilles heel of the Cabal is their arrogance ', I found this an interesting thought. B.Izar gives a number of suggestions that each of us could do and this way the author activates and awakens the reader in a positive way. Having said that, some people may find the content depressing and it may make them feel powerless or cynical.
I am so glad that you have written such a good, accessible and important booklet. I have read several books about this matter, but so far your book has been the most topical, spontaneous and smoothly written. Even my husband read the book with speed and interest. Thanks

I am a banker: "According to the Mifid II guidelines, there are two main pillars: (1) It is important to know the customer and his wishes, and (2) the customer must receive transparent and balanced information in order for him to make investment decisions. Well, if one wants to be so honest with the customer, why not add a third point: (3) banks require to place a notice at the entrance with inscription: "Depositing your money at the bank gives you no guarantee to ever see it again." Luckily I got to know the MacroTrends newsletter where I gained invaluable knowledge.  I am now sharing my knowledge with my loyal customers. I also recommend them to read the book ' About Power and Invisible bankers ', as a summary of everything. Thank! Best regards. Bank agent
Amazing book. I never stopped reading.
I have read your book right away this weekend. Very accessible and well arranged. One of the best books in Dutch language to quickly find out how the system is likely to work.
Interesting book. At the beginning I had my doubts, as the author uses many internet sources as a source of reference and connects far-reaching propositions and conclusions. The author also emphasizes that the information is available to anyone and encourages the reader to do his own research. "In this age of information, ignorance is a choice." This I appreciate of the author. Nevertheless, I started the book and never put it down. Especially the chapter on banks such as the Federal Reserve, Bank of International Settlements and European Central Bank was interesting to read. The book is pleasantly written with the necessary humor. A pleasant book to read.
Good book! Recommendable book. I also recommend reading 'Revolution by guilt' It provides a complete picture of the financial system and also puts it in the historical context. It looks at how the financial power has managed to become dominant and what is ahead of us… Not a book for everyone…!
Read and be amazed. Is everything true? The author hopes it is not. However, having said that, the bigger picture and the financial system is explained and is certainly true. Just look around you and you can see it happening.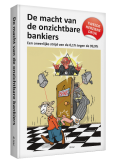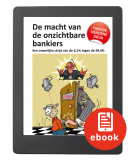 Not sure?
Order the first chapter of our ebook here for FREE (PDF).
Receive our FREE newsletter
Attention: you will receive a mail to confirm your subscription.
Fancy a bizarre afternoon or evening?
Invite B. Izar for a lecture.